Hot on the heels of
British Tomato Week
, 20-26 May is also
National Vegetarian Week
.
National Vegetarian Week
, which is all about how surprisingly simple it is to go vegetarian, is the annual awareness-raising campaign promoting inspirational vegetarian food and the benefits of a meat-free lifestyle.
Despite popular misconception, vegetarian food needn't be dull, boring and tasteless; quite the opposite, good veggie dishes can be just as tasty, nutritious and fulfilling as any meat dish. As an example see my recipe for
Veggie Crumble
.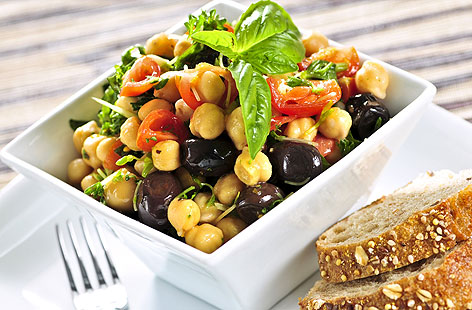 There are many reasons for being vegetarian from not liking meat right through to not liking to kill animals. For some it is a lifestyle choice; for others it is a matter of religion and for a few it is a medical necessity.
While I'm not veggie, and I doubt I could ever be 100% veggie, I do enjoy and we often choose to cook vegetarian dishes — and as regular readers here will know, we like our food! So I'd say that if you've ever even considered being vegetarian, then now is the time to try it. You might like it!
You can find details of
National Vegetarian Week
, including some more easy recipes, over at
http://www.nationalvegetarianweek.org/
.