Just to add a little something more here I'm going to try running a series of posts highlighting some of those less than usual "awareness days" which seem to be all too common. You know things like "Take Your Pet Gerbil to Work Day" and "Crocodile Wrestling Week". (I bet somewhere both those exist!)
There's an awareness day for pretty much every day, week and month of the year, so there is no chance I'm going to try to cover them all — even if there were somewhere where you could find them all easily. So what I'm going to do is, in the spirit of this blog, try to bring you some of the less usual and wackier days as well as a few more mainstream ones. Not just charitable ones, but anything which is going to provide a bit of fun.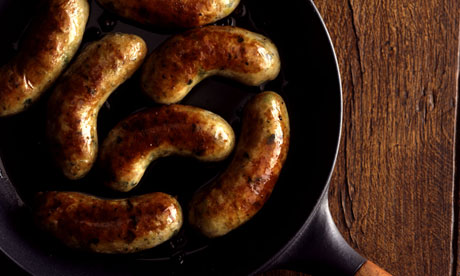 For instance I'm sure we'll feature British Sausage Week
when it comes round later in the year
What I am not, in general, going to cover is anything which is not UK-specific or worldwide; nor anything medical (there are just too many) or religious; nor anything too overtly big corporate or hugely well known. Hence you'll not find Breast Cancer Awareness Month, Autism Awareness Day or Christian Aid Week — worthy those these may be. I will also mostly not be covering (children's) book and literacy days as these are already being covered by my friend Katy over at
Making Them Readers
.
Many of the days I feature, plus lots of others, can be found at
www.national-awareness-days.com
. But I hope to include others as I learn of them — so if you know of any please leave a note in the comments or drop me an email.
I will also try, though I won't promise, to mention the day/week/month a few days before it occurs, so you have a little time in which to find out more and see if there are events
etc
. near you. Wherever possible I will include a link to the awareness day's website.
Well that's what I'm going to do. It is an experiment, so it may or may not work; but if we don't try, we won't know.
The first of the posts for April coming up soon.