So the government is allegedly** going to spend
£9.4bn to upgrade chunks of the railways infrastructure
.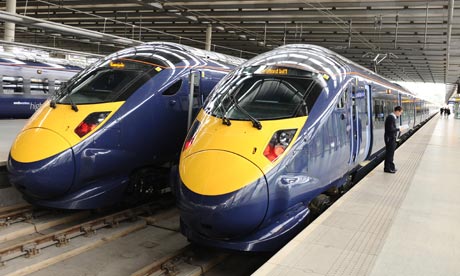 Now that's more like it! That is the infrastructure investment the country needs. Forget HS2 and airport expansion. Let's get the rail infrastructure we have modernised and working efficiently first. Then we can see if we really do need expensive, environmentally damaging, new lines. Much better to realign and widen existing rail routes and streamline operation than built completely new — at least in my book.
Sadly there is a lot more to be done to get the railways in shape. For instance there's a major need for new freight routes around London; a whole swathe of infrastructure upgrades and modernisations; and the need for all the train companies and Network Rail to actually work together and cut out duplication of effort thereby finding some significant efficiency savings. And frankly that would be best done by running the railways as a single entity not a myriad of companies with their own vested interests. What's more I feel it should be possible without further major fare increases.
But this is a start. We need a lot more of it, please!
** I say "allegedly" because (a) it hasn't yet happened and (b) there is some doubt as to how much of this is actually new money.