This week's selection of links to items spotted recently which you may have missed. And you
really
didn't want to miss this juicy selection ...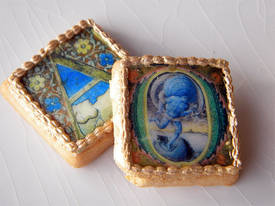 First up here are some awesome
illuminated manuscript cookies
. Just where
does
one get edible ink and paper for an inkjet printer?
How is it that we see dark, even when we close our eyes, because apparently the eye gives off more "black body radiation" than there is daylight? It's all down to
Quantum Mechanics
. Interesting for you scientists; awesome for the rest of you that someone even investigated this!
Apparently the government may be about to (re)introduce
obscenece laws allowing the persecution of buzzards
. The birds are allegedly stealing too many pheasants from the idle rich who now want to shoot the buzzards as well as the pheasants.
Why are tomatoes so tasteless
these days? Well the scientists think they've found out what adds the taste (and it wasn't obvious!) so they can now breed better commercial varieties. In the meantime the advice seems to be to grow your own.
So just
why are harps harp-shaped
? It's physics again.
A Drink to Help You Orgasm
? Fantastic idea; shame about the marketing hype.
OK so
extended breastfeeding
is the norm in most human and primate societies. So why are all you western girlies weirdly not doing it? Ah, I see, not enough Neurogasm. ;-)
What? An American designer who hopes his
better vibrator
can rejuvenate the American sex life? Only if it comes in a plain brown wrapper.
So apparently the
urge to sext naked self-portraits
is primal. Yeah right; so our distant ancestors had mobile phones!? But seriously, where's the f***ing problem? Nudity is neither unnatural nor unwholesome — actually just the opposite. If people want to show themselves off, well fine, isn't that their privilege?
Besides it seems
Rihanna
("a nubile chanteuse, m'lud") is spending a lot of time and energy sharing round what's between her legs. Again, where's the problem? Isn't it her prerogative. Good for her for knowing what she wants and not being afraid to go for it. It's a pity more of us aren't so unbuttoned.